Counseling@NYU to Host Twitter Chat for School Counselors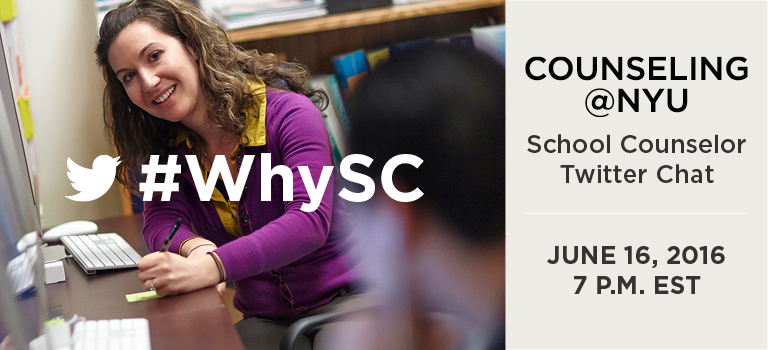 Another school year is almost in the books and millions of students throughout the country will walk across the graduation stage this June to collect their hard-earned diplomas. Sending students off to the next phase in their lives — whether it's to continue their education or start a career — is an especially gratifying moment for school counselors who play a vital role in the academic, professional, and personal development of young minds from pre-K through high school. The unsung heroes of the school system, school counselors work tirelessly to ensure that each and every student has the support system in place to achieve their full potential. Although those in the education field know that you never truly stop working over the summer, the break thankfully offers school counselors much needed time to recharge their brains and reflect on lessons learned.
Counseling@NYU Hosts #WhySC Twitter Chat
To take advantage of the wealth of knowledge within the school counselor community, Counseling@NYU, NYU's new online master's in school counseling degree, will be hosting their first #WhySC (Why School Counselor) Twitter chat. Co-hosted by the American School Counselor Association (@ASCAtweets), the goal of this chats is to provide professionals in the field a place where they can share success stories, advice, and strategies to help their peers improve outcomes for students and schools.
School counselors, education leaders, teachers, and those interested in pursuing a degree in school counseling are invited to participate in this live, interactive kickoff event.
EVENT INFORMATION
GUIDING QUESTIONS
How do school counselors support students in ways that are different from teachers and other professionals in the school system?
What is one new professional challenge you experienced this year? How did you address it?
What advice can you give to aspiring school counselors?
What is the most challenging aspect of being a school counselor?
How can school counselors support unengaged students?
OTHER WAYS TO PARTICIPATE
We also want to hear from you, the school counselors, about what topics you want to talk about. We encourage you to RSVP for the event and submit your questions. Additionally, those interested in serving as a panelist are invited to submit their name and a short bio to this email address
We look forward to tweeting with you to help amplify the voice of the school counselor community.
Help the Counseling@NYU team spread the word on social: