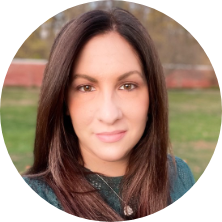 Lisa Ferazzoli
Boston, Massachusetts
Tell us a little bit about your background and your current career.
I am a native New Yorker. I have worked in the healthcare field for almost two decades. Prior to starting the Counseling@NYU program, I was working as a physician assistant in internal medicine. This experience gave me exposure to working with patients with both physical and mental health issues and is what ultimately inspired a change in my work trajectory.
I hope to work with women and adolescent females with postpartum mental health disorders, chronic medical issues, grief, STDs, and sexual decision-making.
What made you choose the Counseling@NYU program?
Aside from NYU Steinhardt's strong academic reputation, the master's in mental health counseling allowed me to continue working in my current profession while taking classes online to begin a new chapter. I appreciated that the program only requires students to meet on campus once for the immersion weekend, which was an amazing experience! Studying online gave me much more flexibility than traditional classroom-setting courses.
How has the program prepared you for success as a mental health counselor?
The program at NYU Steinhardt has given me the confidence I need to begin my work as a counselor. The interactive classroom environment, experienced faculty, and practicum/internship provided invaluable experience that has set me up for success.
How would you describe your experience collaborating with classmates and attending classes in the online environment?
I have been pleasantly surprised at how I have been able to develop relationships and connect with my classmates and professors. It has proven to be much easier than I had expected given the online environment.
Self-disclosure is a big part of this curriculum, and all of my classmates have demonstrated respect and compassion toward one another. The diversity of the student population contributes to our own growth as it allows us to see past our own experiences and norms.
Tell us about your interactions with faculty members throughout your time in the program.
My experience with the faculty members at NYU Steinhardt has been positive. All of my professors have unique and diverse backgrounds within the field, which has opened my eyes to all of the possibilities of working as a counselor. The professors have been professional, supportive, and easy to contact with questions or concerns.
How did the Counseling@NYU immersion experience and curriculum prepare you for your field practicum and internship?
The immersion offers tangible experience and provides a more realistic therapeutic setting to help prepare us for field practicum and internship. It was a chance to practice the skills and didactic material we have acquired thus far.