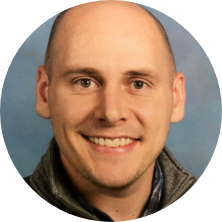 Andy Barnes
Milwaukee, Wisconsin
Tell us a little bit about your background and your current career.
I went through a majority of my undergraduate studies with the belief I wanted to be a history teacher. It wasn't far into my student teaching experience that I realized I loved working with students but that teaching itself was not for me.
I then went on to work in the field of mental health in several public schools ranging from elementary to high school. From there the idea crystalized that I wanted to become a school counselor in some more tangible way to foster the social/emotional/academic development of the next generation.
What made you choose the Counseling@NYU program?
NYU has the reputation of being forward thinking, so I knew if any university could optimize the untapped potential of online learning it would be NYU. I was drawn to the obvious cosmopolitan vibe the education would provide with world-class professors and students from all over the globe. It was with this reputation in mind that I was able to check some of the reservations I had about taking the next step in my education.
Being able to earn the degree online was enticing as I was unsure where I wanted to be in my life. The flexibility is unparalleled and allowed me to take classes from four different cities while trying to figure that out.
How has the program prepared you for success as a school counselor?
The faculty along with fellow Counseling@NYU students have pushed me to be intellectually stimulated and genuinely curious to a degree I did not know I was capable of. I leave the program ready to continuously hone and refine what already makes me a high-quality school counselor.
In addition, the program has provided a lifelong, nationwide support network to stay connected with as I enter the profession. The course work itself is grounded in the latest theory and provided through engaging means by quality professors, meaning that I will leave knowing the current issues that today's students face and how to best address them.
How will this degree move you closer to your long-term career goals and help you become a leader in the field?
Counseling@NYU allows me to be in a position to implement real change. Earning a master's in school counseling from NYU Steinhardt affords me the credentials to soon find myself in a school making decisions that better the climate and culture, and from there, whole communities. It has provided me the confidence that my passion and overall skill set to advocate for students and their families is of the utmost quality befitting of a leader in the field.
How would you describe your experience collaborating with classmates and attending classes in the online environment?
Having taken online classes before, I couldn't help but be somewhat skeptical prior to starting the program. These concerns were soon alleviated, as the technology is engaging and mindfully utilized in a variety of ways.
Lectures, breakout groups, and the wide-ranging asynchronous material provided to prepare for class (videos, discussion forums, recording yourself going through scenarios, roundtable discussions, etc.), make it an appealing environment surrounded by bright scholars. The online component has another interesting dynamic in that students are representing communities from all over, and it allows school counselors like myself to hear about issues and strengths of schools from around the country.
What advice do you have for others considering Counseling@NYU?
Whether you are a student like me who has taken a few years off and are unsure if you can do the whole school thing again even if it's in a related field, or fresh off of undergrad in something completely unrelated to school counseling, I assure you Counseling@NYU has something worth considering for the furthering of your education.
If you want to enter a profession that entrusts you with the awesome responsibility of fostering the development of today's students, Counseling@NYU can help get you there. A host of caring, soon-to-be school counselors as your peers backed by a world-class institution of higher learning – what's not to like?