Overcoming Triggers for Addiction in the Workplace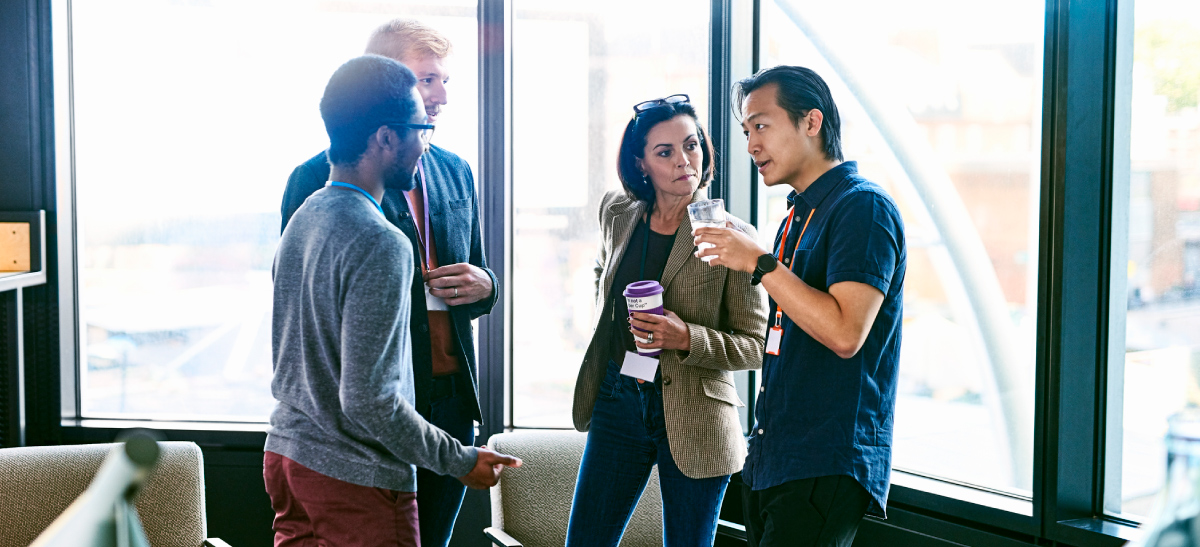 Substance use disorder is pervasive — and even the most regulated spaces are not immune. In 2017, more than 3 million adults aged 18 or older who were employed full time had an illicit drug use disorder in the past year, according to the 2017 National Survey on Drug Use and Health prepared by the Center for Behavioral Health Statistics and Quality. And the same survey showed more than 8 million full-time workers had an alcohol use disorder.
"Big corporations, small businesses, mom-and-pops — it's a pandemic," said Mark Johnson, adjunct faculty member for the online Master of Arts in Counseling for Mental Health and Wellness program at NYU Steinhardt.
The growing trend of alcohol in the office may seem like an enticing perk for employees, but when one in eight American adults is classified as an alcoholic, that perk can become a trigger.
Employees battling addiction face tests of their willpower in the workplace. What can leaders in the office and advocates for recovery do to ensure employees are receiving the support they need?
How Does Addiction Affect Employees and Workplaces?
There has been a notion that addiction is not something workplaces should be concerned with, though research shows that 75 percent of people with substance use disorder and addiction are employed (PDF, 334 KB).
"Let's be clear: virtually all the substances used by people outside of the workplace — stimulants, hallucinogens, narcotics — are used in the workplace," Johnson said.
Addiction can show up as chronic absenteeism, when employees fail to show up or complete their work, or presenteeism, when employees are physically in attendance, but unproductive.
Additionally, more than one-third of patients with an occupational injury are at-risk drinkers, and 11 percent of fatal workplace accidents occur under the influence of alcohol.
"Life can be stressful. Work can be stressful. Individuals in our society are faced with a constantly changing landscape of stressors," Johnson said. Sometimes, that stress manifests in unhealthy and potentially dangerous ways.
Untreated addiction costs employers about $81 billion annually — and up to $13,000 per employee, per year in lost time, turnover, and healthcare.
Factoring in those three costs, the Substance Use Cost Calculator, created by the National Safety Council, the national nonprofit Shatterproof, and NORC at the University of Chicago, provides employers an estimate of how much money a company loses because of untreated addiction based on variables like industry, size, and location. It also uses data to estimate of the number of employees and family members who could be affected by substance use disorders.
For example, a construction company with 50 employees in Kansas loses an estimated $20,000 a year to substance misuse. In comparison, the calculator estimates a retailer with 250 employees in New York could see costs as high as $90,000 annually.
Although these costs should encourage employers to address addiction, Eric Goplerud, PhD, former senior vice president of NORC, notes that ignorance can encourage stigma of addiction.
"The biggest misunderstanding is the belief that substance use disorders and addiction are a matter of will or of personal choice," he said. "Recognize that it is a medical condition which is treatable through medical interventions."
Where and When Does Addiction Affect Employees the Most?
Some industries are more affected by addiction and substance use disorder than others. For example, employees in the mining industry are more than twice as likely to drink heavily than the average full-time employed adult. Employees in the accommodations and food services industry experience the highest rates of substance use disorder.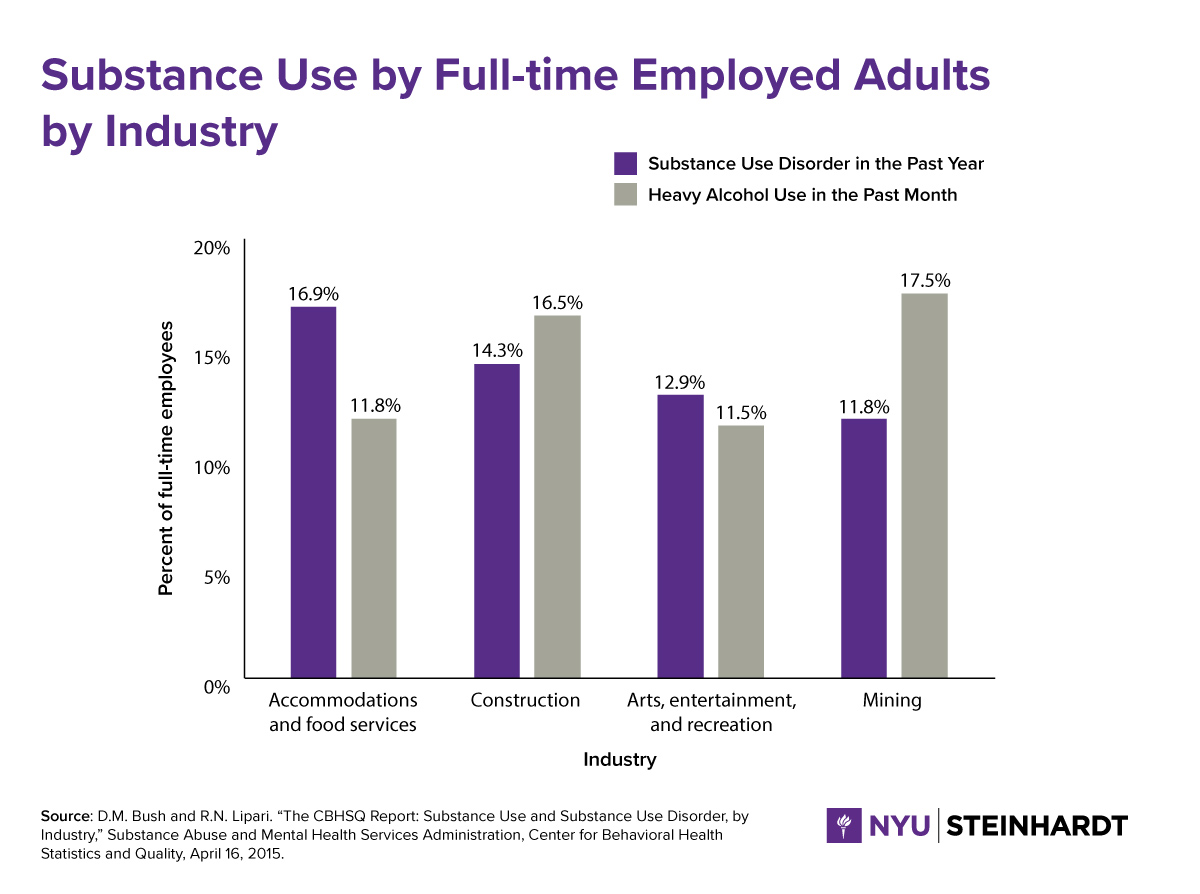 While the accommodations and food services industry had the highest percentage [16.9%] of full-time adult employees with a substance use disorder in the past year, the mining industry had the highest percentage who engaged in heavy alcohol use in the past month [17.5%]. The construction industry had the second-highest percentages for both categories.
Go to a tabular version at the bottom of this post of data about substance use by industry.
Five Ways Employers and HR Professionals Can Help Employees Experiencing Addiction
Employers should understand the difference between substance use and addiction, as well as how responses for each can change.
However, Dr. Michael M. Miller, a board-certified general and addiction psychiatrist and a director of the American Board of Addiction Medicine, points out that substance use in the workplace can be hazardous even if the person doesn't have an addiction yet.
While instances when employees use substances irresponsibly in the workplace may merit employees' own corrective actions, substance use disorder or addiction does not exist on the same scale and should be treated as a harmful medical condition.
Below are five ways employers, HR professionals, and advocates for those with substance use disorder can promote change in the workplace to better serve the needs of employees experiencing addiction.
1. Give advance warning
Employers and managers can make small-scale adjustments, particularly when event planning, to help employees who may be experiencing substance use disorder.
Letting all employees know more about events allows people to remain anonymous but prepared for scenarios that may prove difficult. Consider sharing some of the following in advance:
Will an upcoming event have liquor? If so, what other beverage options will be available?
Where is the office party? What else could it be near? This allows employees a chance to prepare for potential triggers in the surrounding area.
How many people will be there?
2. Always provide options
In addition to letting employees know about potential triggers in advance, consider where in-event alternatives can be made available.
Provide non-alcoholic beverages at all office events.
Create additional activities for office retreats.
Never mandate participation in activities that could place people in close proximity to triggers.
3. Change workplace culture to reduce stigma
Make small changes that empower employees to enter and continue treatment by reducing the stigma around substance use disorder in your workplace. Here are some simple yet effective ways to show employees you support their efforts:
Visibly remind employees of the healthcare options available to them through educational materials.
Allow employees to celebrate sobriety and milestones with coworkers, if they would like to.
Provide options for Alcoholics Anonymous meetings onsite, after work, or during lunch breaks to make recovery more accessible.
4. Offer Employee Assistance Programs
The biggest way employers can help employees who experience addiction is to exercise their purchasing power and influence, Goplerud said.
With comprehensive healthcare and workplace programs, companies can set up mechanisms to help as many people in recovery as possible.
Employee Assistance Programs (EAPs) are voluntary and confidential programs set up to help employees through challenging aspects of life in and outside of the workplace. Assessments, referrals to specialized legal and health services, and counseling are just some of the services an EAP can provide for employees and their families.
Learn more about EAPs from the United States Office of Personnel Management.
5. Refer to treatment
In the case that employers choose to administer drug screenings, they should approach them as a means to recovery instead of discipline, Miller said. Effective referral systems can bring people into existing mechanisms for assistance. One in 25 employees tests positive for drugs in mandated work screenings, and companies should see this as a chance to identify and help employees who may not be seeking recovery resources on their own.
"The goal should not be testing to weed people out; it should be testing to identify people [who] need professional help and to intervene and refer them to treatment," Miller said. "Give them a chance to get back in the workplace in a safer, more functional way."
Learn more about workplace drug testing:
"I think employers are more open [than they have been] to helping employees with substance use problems get the help they need," Johnson said.
He also reminds companies that this is a good thing — investing in employees helps everyone. "If we are to stem the tide, employers and employees will have to work together."
The following section contains tabular data from the graphic in this post.
Substance Use by Full-time Employed Adults by Industry ↑
Substance use disorder in the past year
| Industry | Percent of full-time adult employees |
| --- | --- |
| Accommodations and food services | 16.9 |
| Construction | 14.3 |
| Arts, entertainment, and recreation | 12.9 |
| Mining | 11.8 |

Heavy alcohol use in the past month
| Industry | Percent of full-time adult employees |
| --- | --- |
| Mining | 17.5 |
| Construction | 16.5 |
| Accommodations and food services | 11.8 |
| Arts, entertainment, and recreation | 11.5 |
Source: D.M. Bush and R.N. Lipari. "The CBHSQ Report: Substance Use and Substance Use Disorder, by Industry," External link Substance Abuse and Mental Health Services Administration, Center for Behavioral Health Statistics and Quality, April 16, 2015.
Citation for this content: Counseling@NYU, NYU Steinhardt's online master's in mental health counseling program.