Student Stories: How Alexander Badillo's Leap into Mental Health Counseling – and Online Education – Is Paying Off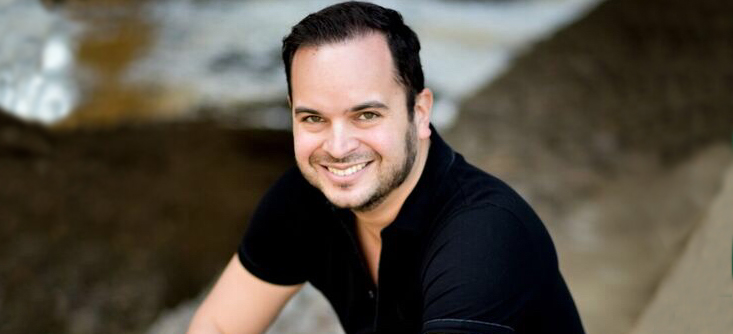 When a career in law wasn't providing the fulfillment he expected, Alexander Badillo set out to find a profession in which he could apply his conflict resolution skills. Now in his fourth term in the online master's in mental health counseling program from NYU Steinhardt, Badillo has found a new passion helping individuals process and work through their emotions. Counseling@NYU talked with Badillo about what prompted his career shift and how the online program has helped him develop professionally and personally.
What made you decide to pursue graduate studies in mental health counseling?
The reason I became a lawyer was my desire to help in conflict resolution. That's something that I really have a passion for, and I discovered that law was more about conflict creation than resolution. So I did a little bit of soul searching to figure how could I apply the skills I already had to do something that I love and that I feel better about at the end of the day. That's where I found counseling and thought it might be the right fit for me.
What drew you specifically to the program?
I had a friend who was completing the on-campus program around the time that I was finishing law school in 2011. He constantly kept me abreast of what he was doing, including the type of work he was doing in his internship. It seemed really exciting. I loved everything that he told me about it. So, when I started looking into this in 2017, I remembered the program. I know that NYU has a world-class reputation. The lawyer in me is still very concerned about the quality of education that you receive and the potential for career placement in the future. Those were the factors that were really important for me.
Has the program been what you expected?
I really didn't know what to expect. I had a very dim view of online programs. I thought they were going to be kind of cheesy and that the education quality would be not the best. I also thought they wouldn't be as interactive as an on-campus setting. I overlooked those concerns given the reputation of the school, and I have to say that all of my fears were unfounded. It's been fantastic. I really like the fact that there is no hiding in the back, which was something that was very common in law school. I tended to only participate when I had to. And this experience really kind of opened me up. I feel like I'm constantly chatting. I interact with my professor and my classmates more than I ever did in a traditional classroom setting.
Has there been anything about yourself or about mental health counseling that has surprised you?
I tend to be a very logical person, and as a typical lawyer, I can be a little bit aggressive in the manner that I speak. I really want to get to the point where I reduce or eliminate that. I have found that I do have it within me to be a little bit more thoughtful and work with people as they are, rather than expecting them to listen to me because I have a good point to make. Also, I always used to get really bogged down with reading in school. Reading has always been a means to an end for me and in this program, I find that I really enjoy the reading. I find it to be very insightful. I think one of the biggest takeaways from this program is the growth that I've experienced myself. I'm much more sensitive to emotion, be it my own or others'.
What particular area of mental health counseling interests you?
I really want to go into private practice. Individual counseling is of paramount importance. I think that, as a society, we marginalize and trivialize the importance of mental health, and I see it as being the cause of many of our world's woes. Each human has little things that happen to them throughout their life, and it's a matter of how they process those things that determine the type of people that they become.
I think that individual counseling will give me that one-on-one opportunity to let a person be heard and to express whatever notions they have, no matter how silly they may think that they are.
Are there particular ages of individuals you are interested in working with?
I think I would enjoy working with young adults and older adults. That's not to say that I'm against the possibility of working with children. But I don't have any children myself, and I have limited interaction with other people's children. I have more of a common ground with adults, so I think I could better connect with them.
I also like the idea of working with couples, and that's one thing that I hope to be able to expand upon when I graduate: to work with people who want to do divorce mediation. I'd work with couples who want to find a gentler, more cost-effective way of divorcing, rather than getting caught up in all the acrimony that typically accompanies divorce.
I also want to work with the LGBT population. I think that that's an underserved community, and I can relate to the experience, so that's something that would be very important for me.
What advice would you give someone considering pursuing studies in mental health counseling?
I would say come with an open mind, a willingness to learn, and have a tough skin. The truth often hurts, and it's very difficult to look at. This is going to expose you to your peers, but more importantly, to yourself, and it might be a tough pill to swallow initially.
That said, I think it's a terrific opportunity for growth, and I also think good listening skills are necessary: not just hearing what people are saying, but actually listening to the undercurrent of what's being conveyed. I also think it's important to be ready to read a lot. It just improves you, and it improves your interactions with your peers, family, and friends. I found that my communication style has changed with everybody that I interact with, and I'm still in a relatively young stage of my career. So, be ready for explosive growth.
You sound very excited about the program. Do you have anything else you would like to add?
I really am. I was very excited to go to law school. I found it really interesting, but I realize now that I never got into it in the same way that I would with something that I really had a passion for. I think the difference between this and law is that with counseling, I'm doing something that's going to help somebody else. I can go to sleep feeling good about myself, thinking that I did something good.
Citation for this content: Counseling@NYU, NYU Steinhardt's online master's in mental health counseling program.