NYU Steinhardt Is Now Accepting Applications for Its Online Master of Arts in Counseling and Guidance Program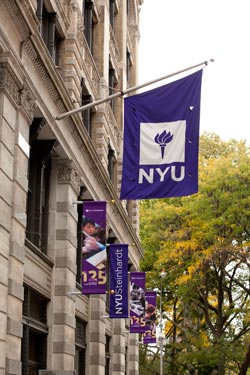 NYU Steinhardt's online master of arts in Counseling and Guidance: School and Bilingual School Counseling is now accepting applications for its first cohort in September 2016. The online counseling degree program, Counseling@NYU, enables aspiring school counselors across the country to earn an NYU education without having to relocate.
The accredited online program combines live classes of no more than 15 students, self-paced course work, and hands-on practicum and internship experiences located at field sites near each student's community. The Counseling@NYU program is accredited by the Masters in Psychology and Counseling Accreditation Council (MPCAC).
Designed and delivered by NYU's expert faculty, Counseling@NYU offers the same school counseling curriculum as the on-campus degree program, educating students in the principles of equity and social justice and with an understanding of pre-K-12 students from diverse cultural contexts. The online program will prepare students to become collaborative leaders and critical resources for students and families in elementary, middle, and high school settings.
The online MA in Counseling and Guidance program consists of 48 graduate-level credits, which can be completed on a full-time or part-time basis. Counseling@NYU will offer three start dates per year — in January, June, and September — and admissions decisions are made on a rolling basis. Students interested in starting classes through Counseling@NYU in September must apply by July 20, 2016, for the priority deadline.
For more information on Counseling@NYU, please contact an admissions counselor through email or call 855-698-4622.