Gap Year Basics: How Taking a Year Off Increases the Ceiling for Students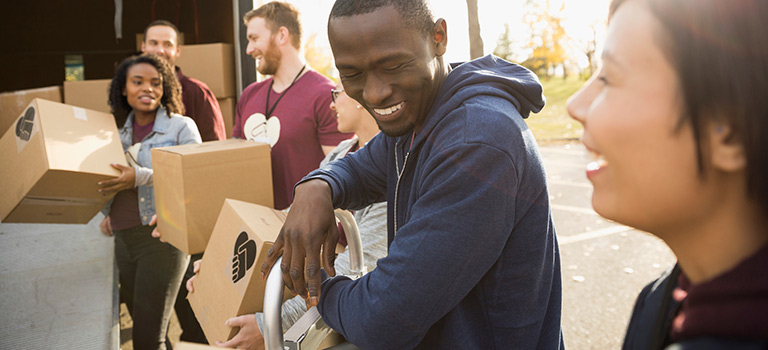 SHARE: TWITTER | FACEBOOK | LINKEDIN
Malia Obama brought the term "gap year" into the American public eye when, after graduating high school, it was announced that she would be taking a year off before starting college. She spent that year off – her "gap year" – interning at a film production company, and will now be starting Harvard in the fall of 2017.
Here, we'll take a look at the who, what, where, why, when and how of taking a gap year between high school and college, and what this choice means for today's generation of students.
What Is a Gap Year?
Writer Christine Schoefer says the term is based on a traditional yearlong "grand European tour," or Wanderjahr, taken by wealthy German men before World War I.
The modern gap year can be traced to the 1960s when spiritual seekers backpacked India's "hippie trail." Backpacking spread to other countries in the 1970s, popularized by the Lonely Planet guides. Young Australians traditionally take gap years, and they've long been popular in the United Kingdom, though rising school fees mean fewer young people can afford to take them.
Today, taking a gap year refers to taking time off between high school and college (or college and the "real world") to travel, volunteer, or pick up a part-time or full-time job. Some young people use it as a time to "find themselves" and figure out what they want to do with their future.
According to studies published in 2005 and 2013 by Karl Haigler and Rae Nelson, students primarily take a gap year because they are burned out by high school and preparing for college. A secondary reason, Haigler and Nelson found, was that students want to learn more about themselves.
Survey Says: Gap Year Motivations
The following data is from the 2015 survey from the American Gap Association (AGA). Study participants — individuals 18 to 60 years old who have taken a gap year — indicated their primary motivation for taking a gap year.
The results indicate the popularity of the intrinsic and extrinsic motivations of individuals who had participated in a gap year.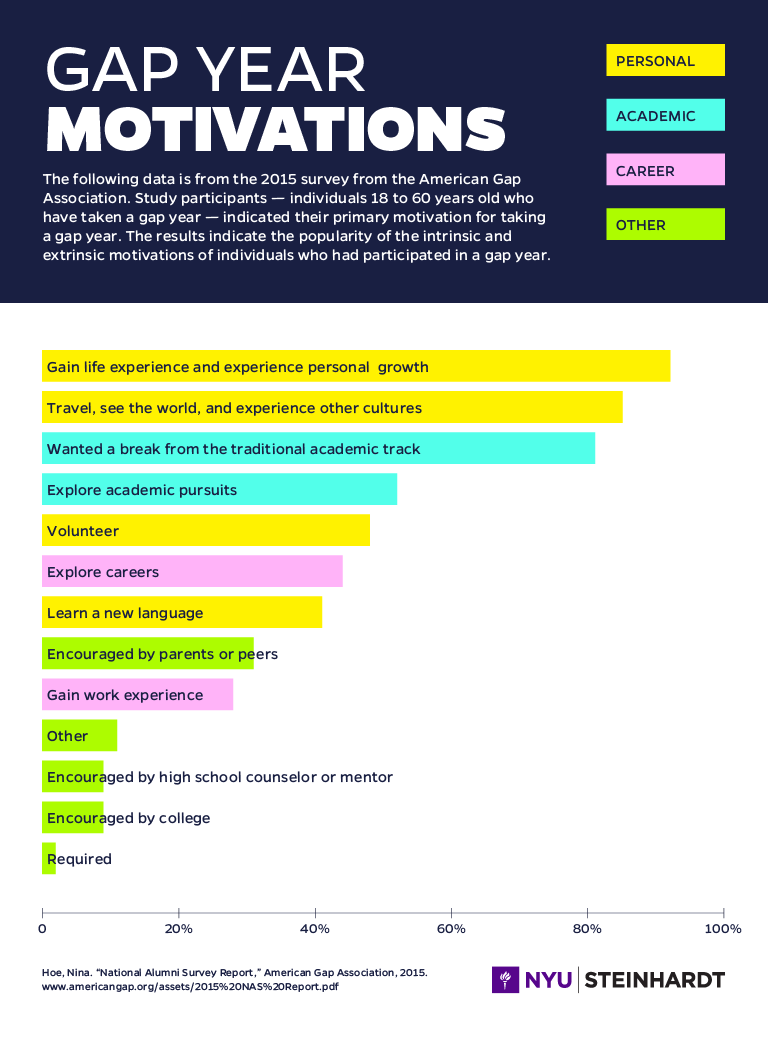 While this gap year "trend" isn't only for the Malia Obamas of the world, it's important to note that fewer than 1 percent of college freshman take this time off. Additionally, there is skepticism surrounding the effectiveness of a gap year. In an interview with U.S. News & World Report, Ann Marie Klotz, dean of campus life at New York Institute of Technology (NYIT), noted that a gap year is a privilege usually taken by more affluent students. Lower-income students "who work after graduating high school in hopes of saving for college never actually go to college."
Gap Year and Finances
Lower-income students may feel that a gap year is too expensive, or that a shot at higher education is too valuable to put off for a year. That's not always the case.
"A gap year would be even more beneficial to these students," says Kim Oppelt, a former high school counselor, now working as an outreach manager at Hobsons. If lower-income students go to college "blindly — without a major they are passionate about, or a college where they truly fit," they may end up changing their major or transferring schools, which would just extend their college years and increase their student debt.
Gap-year students have higher career satisfaction than non-gappers, according to a 2015 survey conducted by AGA and Temple University. Ethan Knight, executive director of the American Gap Association (AGA) said he believes such benefits should not only accrue to the wealthy.
"Why should career satisfaction only be the province of the well to do?" he said. He especially likes gap-year programs that "interweave lower- and higher-income students to demystify the experience of wealth … and take the ceiling off of their potential careers."
Is a Gap Year a Good Idea?
Many parents (and some high school counselors) balk at the concept of a student taking a year off immediately after 12 years of formal schooling. Critics worry students' commitment to attending college will falter, but these worries may be unfounded. In fact, most students Haigler and Nelson surveyed said they felt more enthusiastic and prepared for college after taking a gap year.
When dealing with nervous parents, counselors should share the data and stress the benefits of gap years. Counselors should also point out that for the gap year to be successful, it's crucial the year be structured. "A gap year should not be looked at as a vacation after high school or as a way to let loose before attending college," Oppelt said.
The best programs feature some combination of cross-cultural experience, language learning, real-life work, and volunteer experience. AGA is one organization that puts students in touch with opportunities to study, travel, volunteer, and work.
Should I Take a Gap Year?
So when shouldn't a student take a gap year? Oppelt said a gap year "can fall short for students who are not self-motivated, for those who are not looking to develop their sense of self, or for students who lack planning and organization skills." She said gap years might also be wrong for students who need the intellectual structure and consistency of formal schooling to keep their academic careers on track.
"The only situation in which I would advise against taking a gap year is when the student is genuinely excited to immerse themselves into the academic environment of a four-year college," Knight added.
Survey Says: Gap Year Outcomes
The following data is from the 2015 survey from the American Gap Association. Study participants — individuals 18 to 60 years old who have taken a gap year — were asked to rate how much they agreed or disagreed with the following "My gap year ______" statements. The graph below illustrates what percentage of "gappers" (gap year takers) strongly agree with the statements.
The results outline the personal, academic, and career outcomes of individuals who have taken a gap year.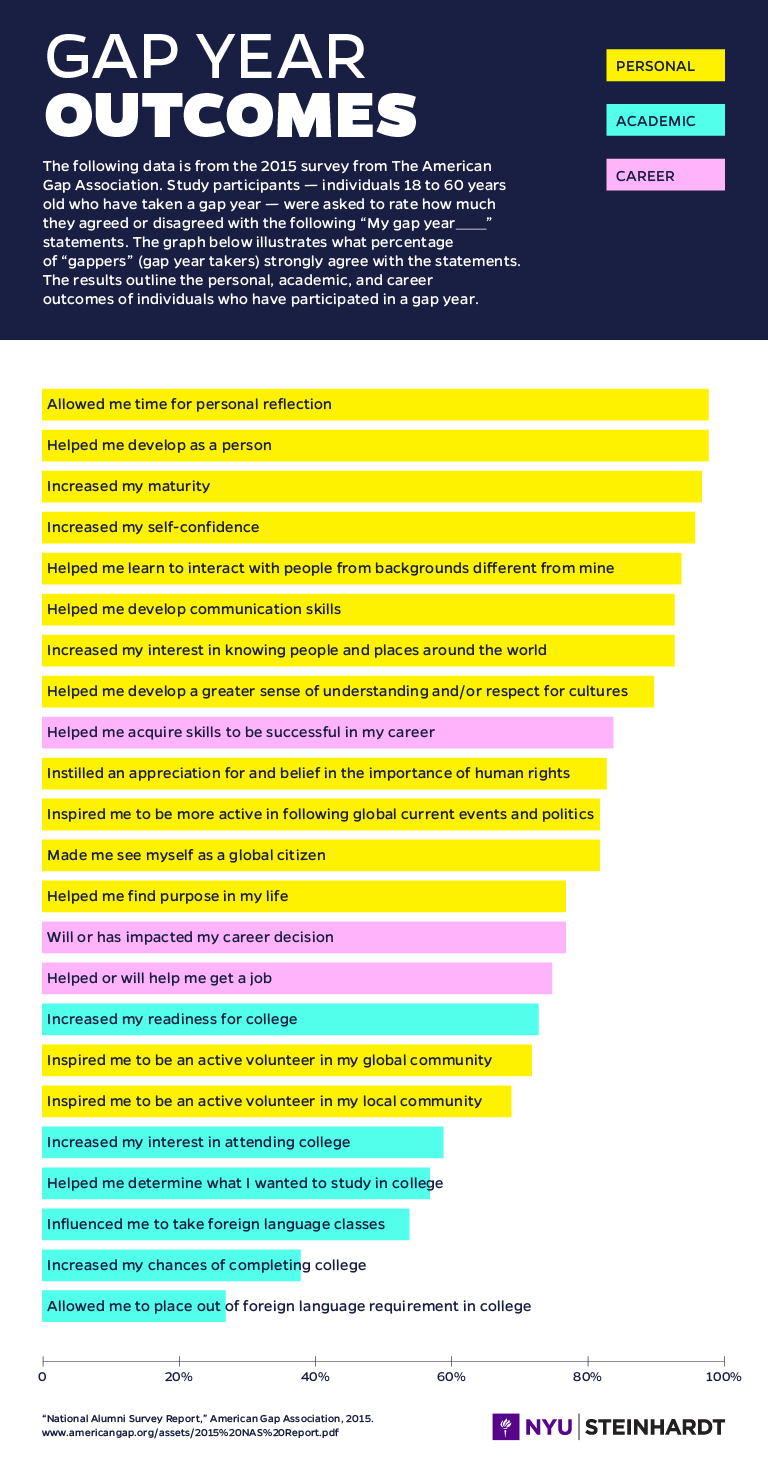 Taking a Look at Resources
Still, gap years can be expensive. No programs are entirely free, and even ones that provide room and board can come with incidental, daily costs.
Lower-income students can look at volunteer programs like AmeriCorps, which pays for room and board, and even offers participants a $5,800 scholarship to put toward college tuition. Another program, Om Prakash, costs students from $0 to $25 a day, and places them in an internship.
"The vast majority have need-based scholarships but you have to ask about them," said Knight.
"Like any scholarship, students have to search a bit for them, as well as spend time completing the requirements," Oppelt said. She said that work invariably pays off: "I have yet to hear of a student who has taken a purposeful gap year regret it."
The Value of Knowing Oneself
Knight said all the benefits of a gap year stem from students learning more about themselves.
"They confront limits they didn't know they had, succeed more frequently than they would have thought before, and are exposed to new and different ways to lead this thing called life," he said.
They may even get better grades when they get to college. Undergraduate students who had taken a gap year before enrolling earned 0.1 to 0.4 higher GPAs than students who didn't, according to studies conducted by Robert Claggett, former dean of Middlebury College.
Universities have taken heed. The higher GPAs of gap-year students boost the college's academic achievement records. And gap-year deferrals also help ensure colleges have enough incoming freshman to offset dropouts or students who take a semester abroad.
Knight said he would eventually like to see gap years enshrined as an American institution: earning students college credit, included in the federal student aid program, and available to every high school senior, regardless of income.