How to Choose Your College Major
One-third of undergraduate students change their major at least once in college. With every switch comes more questions and uncertainty – about graduating on time, what classes to take, and which career options to consider.
Choosing correctly on the first try can be a challenge, and there are a number of factors to weigh when making your decision. What are the short- and long-term benefits of the decision? What kind of career will this lead to? How much will it cost?
For students trying to navigate the difficult decision of choosing a college major, here are some things to consider.
Who are you?
Michael Nina, a professor at Counseling@NYU, which offers an online master's in school counseling from NYU Steinhardt , said it is important that students know themselves. He points to four variables students should consider: interests, skills, values, and personality.
"The more [students] are accurately able to understand themselves, the more they can make an informed decision," Nina said.
Sometimes, adolescents are too young to make those decisions and have a full understanding of the four variables. For students who don't feel confident that they do, taking more classes, learning about new subject areas, and keeping an open mind are all key.
Nina said it is often assumed that young students should know what they want to do, yet they may not have had courses in psychology, economics, or other subjects, "so if kids haven't been exposed to it, they may not know that they're interested."
Experience and time offer students the opportunity to find out what they like and don't like, and then align those with a major. Knowing what they want to do for the rest of their lives may take substantial reflection. But Nina believes it's worth it.
"Know thyself," he said. "They have to know who they are."
Here are a couple things students can do to answer, "Who are you?":
Take new and interesting classes. Many high schools offer electives or allow students to take courses that may be geared toward their interests like AP classes. For students already in college, taking courses across different departments is a great chance to explore new interest areas and skill sets.
Join student organizations or other extracurricular activities. These social activities are not only great ways to meet other people, but they can also help build important skills and offer another way to learn about potential careers that students may be interested in pursuing.
Volunteer with organizations outside school. Gaining real-world experience in different areas looks good on a resume and offers insight into what a career will be like.
What will it cost?
Outstanding student loan debt hit $1.4 trillion as of June 30, and the average borrower owed almost $30,000. When delaying your major can delay graduation and add to those costs, it's valuable to stick to a plan.
Financially, college debt expert Whitney Hansen recommends choosing a major early.
"It's going to get you out of college as quickly as possible, which saves you that tuition cost," she said. "But then it also allows you to start working sooner."
Hansen said too many students overlook the importance of planning for college – something they should be thinking about as early as ninth grade. "They can start applying for scholarships, they can start to have those conversations with their parents: 'How much can you realistically contribute to my education?' "
Here are a couple things students can do to estimate "What will it cost?":
Talk about finances. Discuss the cost and affordability of college with your parents. Setting realistic expectations for financial responsibilities early makes it easier to plan.
Learn about logistics. Check how tuition rates differ by major. Are there costs for supplies or technology? Does the program require more credits than other programs?
Who can help you?
Research shows 41 percent of high school students view their families as their main influence on career decisions.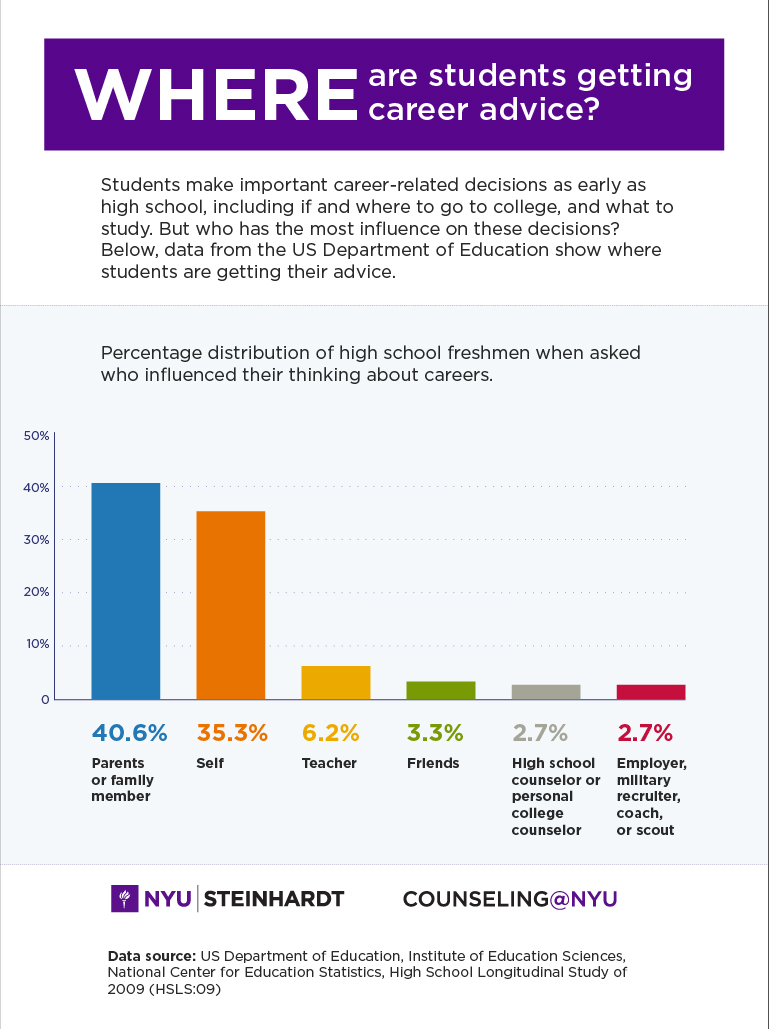 But Nina advises against placing too much emphasis on the opinions of others. He warns of the risk of identity foreclosure, a stage in development when adolescents think they have an identity without really exploring their options, many times just adopting the identity of family or friends.
"They haven't yet developed their own identity," Nina said. "So they're just blindly accepting what their parents say they should be."
Look to the experts in your life – counselors, teachers, and role models – who can provide unbiased insight.
Here are a couple things students can do to try and answer, "Who can help you?":
Talk about options with a school counselor. School counselors are trained to help students think through these decisions. Talk about different career paths to figure out what will be the best fit.
Participate in informational interviews. Reach out to people with similar jobs and ask what they studied, why they chose that path, and any advice they have.
"The key here is they have to feel confident they will make a choice once they know themselves and what they're interested in," Nina added.
Citation for this content: Counseling@NYU, NYU Steinhardt's online master's in school counseling program.