Relationships That Heal: Building a Community to Combat Childhood Trauma

"I just wish I had an adult to talk to."
That was the response of over 80 percent of teenagers in a survey commissioned by Laura Porter when asked: If you could have one helpful thing in your life, what would it be?
Porter, a former county commissioner in Washington state is now the co-founder of ACE Interface, an organization that provides schools and communities with the tools to combat childhood trauma. The survey was part of her research to get a handle on what was happening with young people in her community.
"That was shocking to me as a mother, as a community leader," Porter said. "I assumed that children had someone to talk to, that they trusted."
Adverse childhood experiences (ACEs) were first studied by the Centers for Disease Control and Prevention and Kaiser Permanente in a 1998 survey comparing childhood experience related to three areas – abuse, household challenges, and neglect – with current health.
When children experience trauma during developmental stages, it can have lasting implications.
In the study, respondents answered questions about the first 18 years of their lives. From those questions, ACEs were defined by their interaction with one or more of the following factors: emotional, physical, or sexual abuse, emotional or physical neglect, mental illness in the household, parental separation or divorce, mother treated violently, household substance abuse, and household criminal activity.
Results showed that almost 64 percent of participants had experienced at least one ACE, and over 37 percent had experienced more than one.
That study, and others that followed, associated ACEs with health-risk behaviors and diseases, including obesity, substance use, and cancer.
View the text-only version of this graphic.
When children experience trauma during developmental stages, it can have lasting implications. "The body begins to live in a high-alert state, and the stress response system of a child is constantly on," explained Jennifer Astuto, a professor with Counseling@NYU which offers an online master's in school counseling.
According to Astuto, this stress weakens the neural connections at a critical developmental stage when children should be making new ones. "They should be pruning the [neural connections] that aren't working. And when the body is in an elevated state of stress all of the time, these neural connections get impacted," she said.
Across the Nation
Recent data from the 2016 National Survey of Children's Health show that ACEs are everywhere – over 46 percent of children surveyed have experienced at least one traumatic event.
In fact, at least 38 percent of respondents in every state had experienced some trauma listed. Arkansas, the state with the most children experiencing ACEs, comes in at almost 56 percent.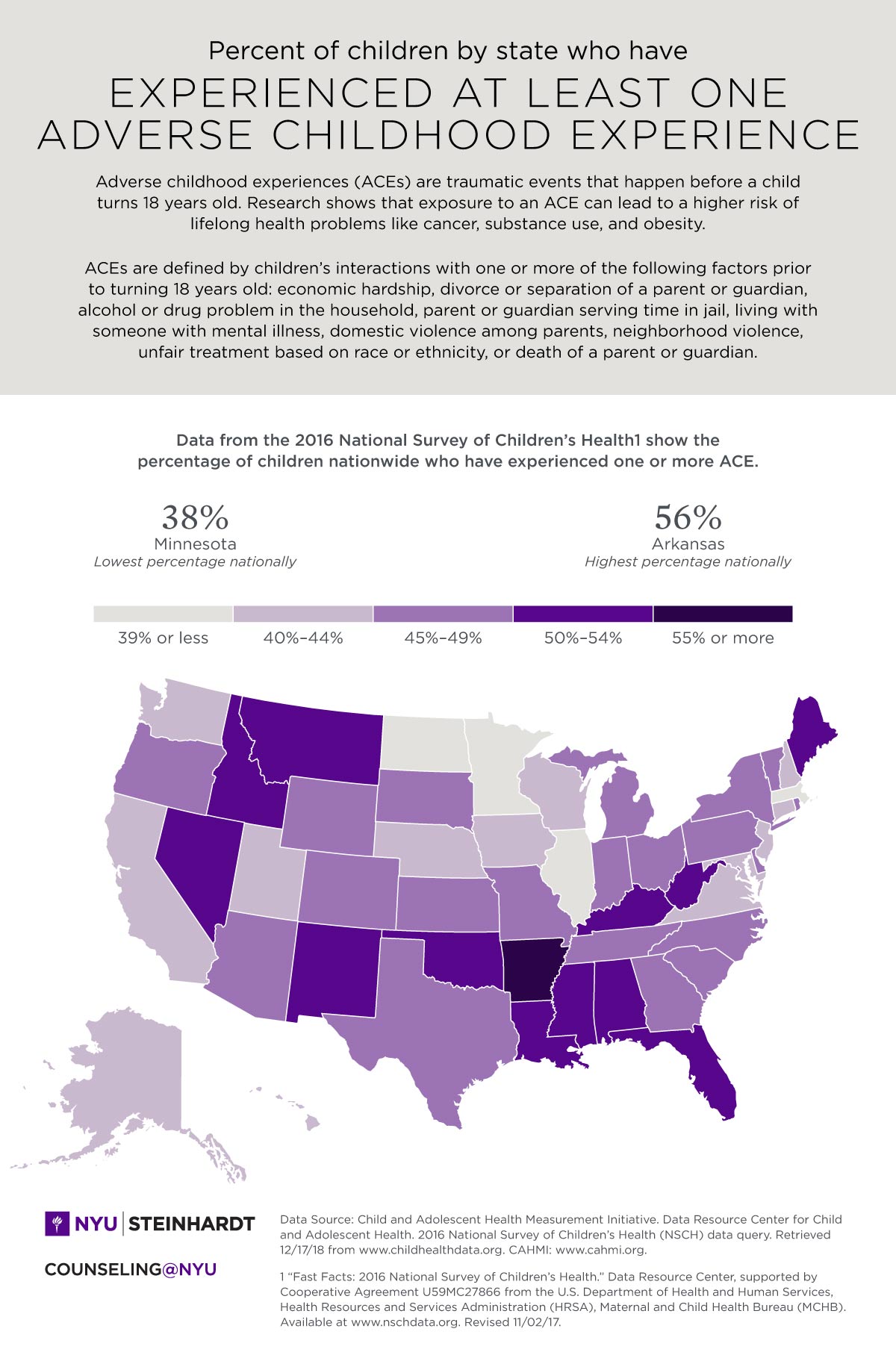 View the text-only version of this graphic.
"It is a significant problem everywhere," Porter said. "Even in the schools where the communities would think 'Oh it's not in our community.' "
Porter said she could tell the schools where ACEs are more common than usual, and not just because of the students. "Adults in the school often feel overwhelmed and emotionally exhausted," she explained. This can lead to exhibiting symptoms of compassion fatigue.
With students, the trauma is sometimes expressed in the stories they tell. "It's emotionally painful to know that children are feeling that discouraged," Porter said. "And so part of what we're doing when we're working with groups of adults is processing that pain. We're grieving."
Isaiah Pickens, a clinical psychologist on staff at the National Child Traumatic Stress Network said seeing the warning signs of ACEs – noticing changes in behavior at the individual level – can be more difficult.
Experts say warning signs include dissociation, hyperarousal, avoidance, and regressive behavior. The signs exhibited can be based on factors like the child's age, gender, and type of adversity faced. When educators see those changes, the next steps can help focus in on the problem.
"We do a more formal screening and then assessment, which are tools that we use to really identify what are some of the main symptoms that we're seeing with the kid. It will help us identify what's the best way to address it," Pickens said.
Strategies for Educators
School staff can start to address ACEs by evaluating the school's current services to identify any gaps. But Astuto warns against implementing programs just because they're successful elsewhere. Make sure resources are allocated where they're needed most. Do schools need whatever program is most popular, Astuto asked, or could they benefit from a different program more tailored to their needs?
If school policies and programs are going to change, people have to understand why. Organizations like ACE Interface aim to give everyone a common understanding of these adverse experiences by bringing in neuroscientists to explain the effects of ACEs to the community. Parents and professionals can learn "the neurobiology of how adversity and trauma get under the skin and affect our life course," Porter said.
Pickens said it's important to remember one thing: "Kids who experience trauma are not irreparably damaged."
Community education is key for schools that want to change policy. Otherwise, it's hard to put trauma-informed education into practice. "Once we fully understand the science, then people are motivated to use the science in more long-lasting kinds of ways," Porter said.
Involving family and the community sets up a strong firewall against the effects of trauma. Integrating services across the community provide resources for families outside of the school.
Communication helps build up the network to include more resources, and strengthening that community can help every child in it. "An environment that is responsive is an environment that is stable," Astuto said.
The high prevalence of adverse childhood experiences and their long-term outcomes can be daunting, but there are always opportunities for children to develop healthy relationships.
Pickens said it's important to remember one thing: "Kids who experience trauma are not irreparably damaged."
Citation for this content: Counseling@NYU, which offers an online master's in school counseling from NYU Steinhardt.